This is the second of two posts about Sweat Records' free, all-ages, 5-year anniversary block party, Sweatstock, in Miami's Little Haiti neighborhood, Saturday, 4.17.2010.
Following Animal Tropical were the Jacuzzi Boys, who instantly thronged a crowd of teenagers to the front of the stage. It was clear that the Jacuzzi Boys are metamorphosing from band to role model in some time-warp anti-internet Miami bubble that may or may not spread Northward. Hope it does.
ANR took the stage with a handful of new jams as the sky slowly darkened. Opener 'Stay Kids' and OG closer 'Dirge' book-ended an ethereal string of similarly themed songs. The set saw both members utilizing instrumental set-ups unused since 2004, a welcome surprise considering the clairvoyance of releases Witness Now the Birth of an Awesome New Republic and All Party Talks from that time period. Keys wizard B Rob is pictured below.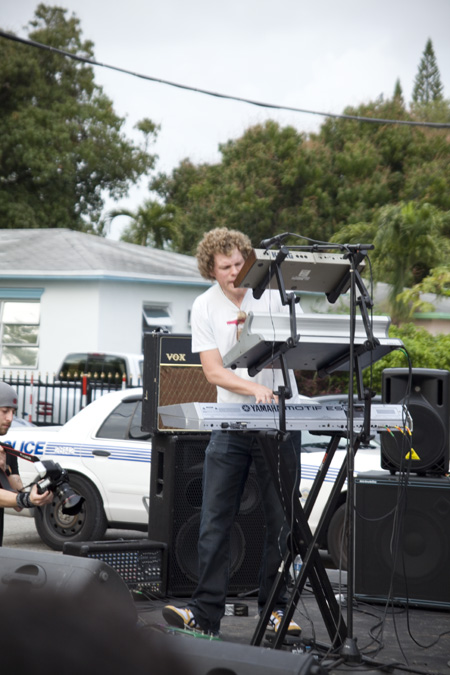 Otto von Schirach proceeded to unleash his unnameable sound-brand upon the crowd, flanked by an orange prison-suited alligator man and magic wand-bearing S&M sorcerer. Otto is the one guy in Miami that can satisfy everyone and he did just that Saturday, working the crowd into the No Age frenzy that ensued. Otto & posse below…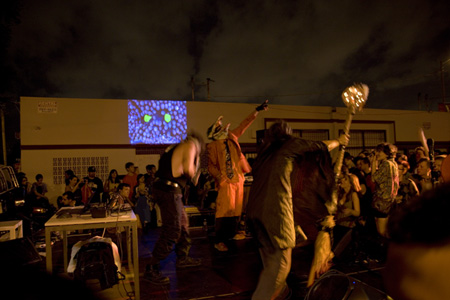 Following words by Sweat Records' founder Lolo Reskin, headliner No Age blazed through a set list of bangers from Weirdo Rippers and Nouns, with a few new tunes (see video at top of post). Words are wasted here: as seen in the video, the band was completely surrounded, with a sea of rotating crowd surfers in front, small children dancing on the sides, and photographers and maniacally-psyched people in back. Thank you Sweat Records.